Evil Dead is truly a legendary horror film.As is often the case, it was the film's youth restriction (or confiscation!) and its legendary reputation that piqued our curiosity in my circle of friends. In addition, some already knew the comedic and less violent third part Army of Darkness, which in itself had enormous cult potential. I liked Evil Dead right away, which was probably mostly due to main character Ash (Bruce Campbell in the role of his life). "Well Hello Mr. Fancy Pants!"
The splatter scenes are still hefty today, even if the film (uncut) is neither confiscated nor otherwise restricted since 2016. Exhausting I always found especially the screaming zombie in the basement – even today I have the annoying laughter in my ear. But everything else always seemed to me like a charming B-movie with funny and self-deprecating ideas, great animation and a furious leading actor. Is there a character similar to Ash or someone who has a similar role? I can't think of anyone. No wonder the original trilogy continued 23 years after Army of Darkness with the series Ash vs. Evil Dead immediately following. Ash is too cool not to do anything with anymore. Unfortunately, I've only seen the first season of the series, but found it very compelling and appropriate to the legacy.
For my current miniature, I have now watched the very first film again and am still thrilled. The other parts will follow now, because I can only remember fragments of Evil Dead 2 in particular.
The Ash miniature once again comes from Hasslefree. It depicts Ash in a heroic pose with his gun raised and his foot placed on a skull. The right hand is variable: included are the chainsaw hand and the axe in the hand. Additionally, a katana or the holster for the rifle. On the Hasslefree website, both variants are shown. So far, I have only seen the chainsaw variant installed and have also opted for it myself – it is simply too iconic. Qualitatively, it meets the usual Hasslefree standard: solid white metal, only minor casting flash, and a relatively dynamic design despite the standing pose. The chainsaw prosthesis has a perfect fit, so cleaning and assembling was a breeze.
Here's what I asked on Instagram: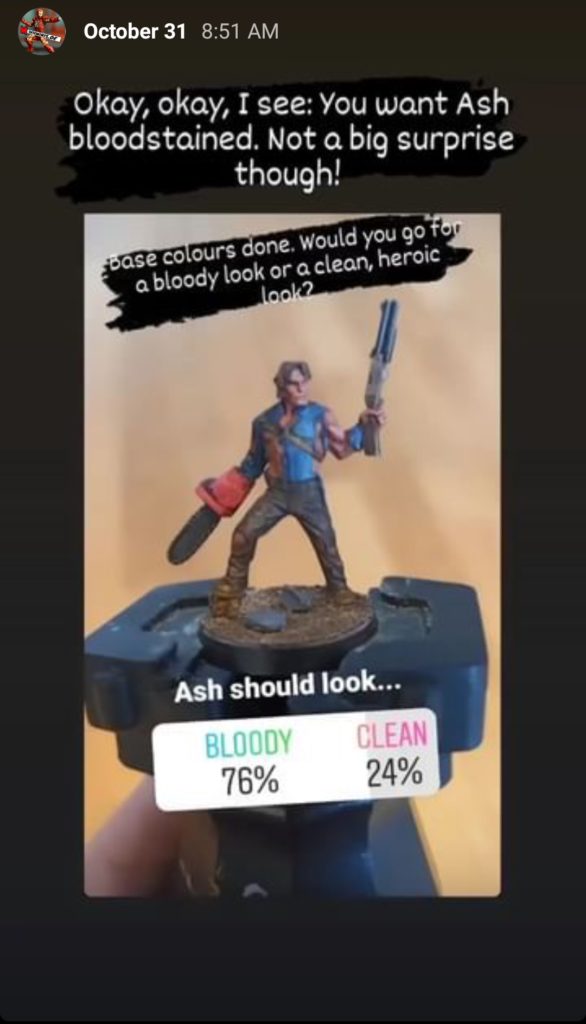 I was not surprised by the answer.
You often see this miniature covered in blood, and it's part of it somehow. I then decided to do it differently, especially since I noticed during the image research how heroically overdrawn Ash is portrayed on the movie posters. On the Army of Darkness poster he even looks like the purest muscleman, which he wasn't despite all his fitness. But I like the idea and that's why I decided to depict him in a heroic way. I didn't think it would be appropriate to have him covered in blood. In order to take the result of the vote into account, I at least made the chainsaw bloody – what would Evil Dead be without blood? I am now absolutely satisfied with the result.