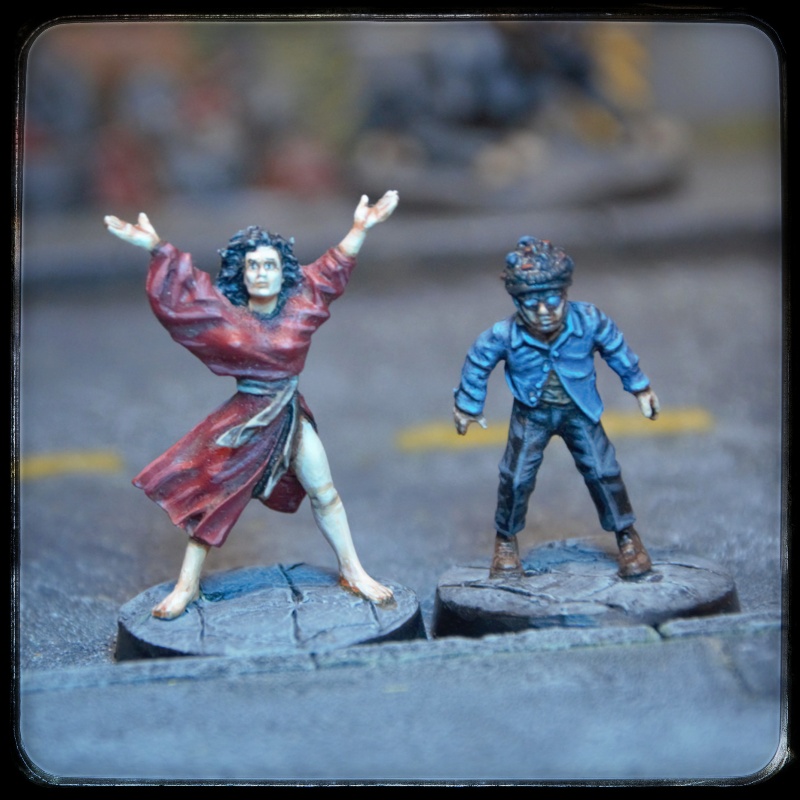 The Ghostbusters (aka "Paranormal Exterminators") are done, so it's time to turn our attention to demons & ghosts. Spangler & Co. have plenty to deal with – in the movies still manageable, but in the series masses of them. But don't cross the streams!
Some of the cartoon ghosts were indeed quite scary, but even the ghost woman in the library in the first film was an exciting encounter. In addition to curious encounters, the animation technology was particularly exciting at the time. How had they shot the flying books? How did they do it with Slimer? And how could the Marshmallow Man stomp through New York without CGI? The answers are among my earliest learnings about animation in movies. Where else would you have learned about such things?
The classic ghost
Of course, a small demons & ghosts collection is part of my Ghostbusters. I started with a simple, classic ghost woman, which I wanted to have in the style of that librarian. I found it at Reaper Miniatures. The miniature has nothing to do with the scene, but the flowing clothes and hair still give her something very ghostly. Fits well in my eyes. With drybrushing from black to white and subsequent blue glaze she was quickly painted and worked well as a ghostly apparition.
"I don't remember seeing any legs, but it definitely had arms, because it reached out for me!"
The demonic Dana
Another "apparition" is Dana Barrett. The character played by Sigourney Weaver actually acts as a love interest for Bill Murray's Dr. Peter Venkman. Unfortunately, she becomes possessed by the powerful Zuul and thus becomes an opponent for the ghost hunters. Since Crooked Dice, appropriately enough for the "Paranormal Exterminators", also released a set with her, I of course had to buy that right away. She is depicted in her summoning posture and I really like her in and of itself. In this case, however, I'm not particularly happy with the paint job, as it failed to achieve any recognizability – it wasn't the model's fault, anyway. But since this is also one of my earlier works, I can get over that as a learning process.
It's getting creepy: Terror Dogs
The most recently painted miniatures for the Demons & Ghosts collection are two terrordogs from Ghostbusters. When they appeared in the movie it took the movie to a new level of scary for me the first time I saw it. Up until then the movie was funny but then it got really serious for our heroes. No question about it, I needed miniatures and I was absolutely thrilled when I happened to find the ones from Heresy Miniatures. No coincidence that they look very similar to their models.
The miniatures are quite metal blocks and in my case had a moderate fit. Heads and legs had to be glued on and that didn't work out so well. Green Stuff had to be used and I even donated two legs. When I posted my figures on Instagram a few years ago, Andy from Heresy let me know that he had reworked the miniatures and that this problem was now fixed. He has since even re-released the models as complete resin models. Clear recommendation!
Louis Tully
As the last figure of the classic Ghostbusters movies and the "opposing" demons and ghosts, I painted Lous Tully aka Rick Moranis. The miniature comes in a set with Dana Barrett (Sigourney Weaver). I like the model, it captures the character's erratic comedy beautifully and is once again an excellent realization of a movie character by Crooked Dice.
Louis Tully is a real highlight for me in both films. It wouldn't have needed this character in this form at all, especially the first film would have worked with him in a less funny form as well. Still, Rick Moranis has created a guy who is both likable and annoying at the same time, but who you just love to watch. He's one of those characters that once again adds to a great movie. With the exception of Space Balls, I haven't seen a movie with Rick Moranis since I was a kid, but every time I see him in Ghostbusters or Space Balls, I miss him today. Maybe one day we will see him again in a new movie, that would be a small celebration.