The Teenage Mutant Ninja Turtles are one of the great heroes of my childhood: Cowabunga! The Turtles experienced a big hype in the 90's with the great cartoon series and many action figures that everyone wanted to have. I had a few of the action figures, but never a complete Turtles gang. Everyone was looking for Shredder, only a few owned him. I think Krang was even harder to come by, I never saw one live myself.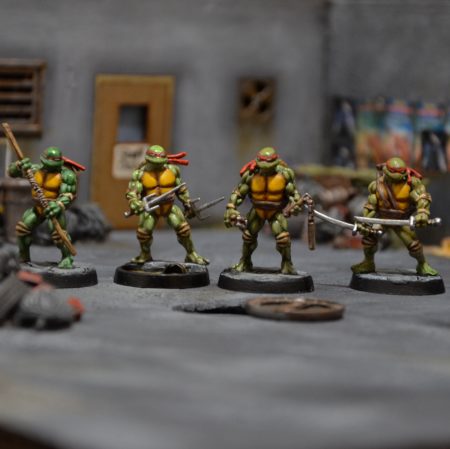 When I saw repainted Heroclix Turtles somewhere on the internet, I immediately bought into the idea that I had to have these for my tabletop collection as well. Heroclix models are pre-painted and usually less detailed, as they are not made to be painted. They are supposed to be inexpensive and ready to play immediately. That's all well and good, but it's something to keep in mind when repainting Heroclix figures . Some are actually quite well cast, others are just not suitable for higher level painting. The turtles themselves are decent models, I'm very happy with them. I merely painted over the original painting. You can probably decolorize them beforehand, but I didn't dare because of the very soft plastic. It worked out quite well that way too.
When I painted them, I decided to go with the classic bandana colors – all four in red. As far as I know, the different colors were first introduced with the cartoons to make it easier for kids and potential customers to recognize them and then, of course, to sell more action figures.
By the way, I bought my miniatures at MTG and more. In the store you can find among other things a lot of Heroclix figures for individual purchase. That's exactly what I was looking for! Cowabunga!
I'm very happy with the result and will definitely paint more models from the TMNT cosmos – unfortunately Krang from the Heroclix series is very rare and hard to get. Even if you find it, it can easily cost $30. Unfortunately, it's not worth it to me, so I might have to do a rebuild. After the turtles, it was on to the sidekicks.