We recently had the final issue of The Walking Dead published in Germany. That is signal enough to finally start painting my TWD miniatures!
The comic series was published in Germany by CrossCult, from 2006 on. Early 2007 I discovered the series at my local comic shop and instantly fell in love with it. Ever since I had a faible for post-apocalyptic stories: What happens when society collapses? Zombies are in this series anyway rather accessory and set the framework, the social issues are much more significant. I was almost always wonderfully entertained.
CrossCult published the collected tradepaberbacks from the US as decent hardcover versions twice a year. That means that I had the joy to read a new issue each April and October for 12 years now. I stayed with the german version because I didn't want to mix up my german hardcover books with the english softcover trades … what a Monk, right?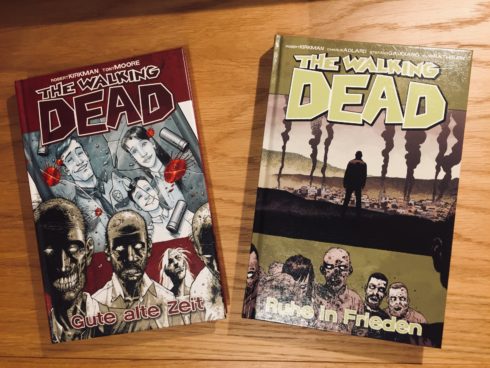 When Robert Kirkman all of the sudden announced in June that the next issue would be the end of it all that moment was a bit sadder to me than it should be for a grown up man. So, now the final issue is there, but thanks to the internet I already know the big finale. Anyway, I'll just go reading it while the kid sleeps and soon start painting Rick and the others. Have a nice sunday y'all!