I'm happy to have finished some new backdrops for my pictures. As I'm interested in painting movie themed miniatures, I feel like they profit a lot from a suitable staging. The first pictures that I took were in front of a red brickwall. Of course, that becomes boring pretty soon (maybe it already is?), so I wanted to have more variety. For the beginning I plan to extend my range of city/streets themed backdrops and scenics. Sooner or later there will definitely be forest or desert themed settings, but time is very limited and besides I also want to paint miniatures. What should I spend time on this week? …it all will grow naturally with time I guess.
Ok, the first additions to my collection of scenery are four parts from city buildings. One is the front of a coffee shop, two are simple walls and one is the back of a shop. Those pieces are all made out of one single MDF-kit by TT Combat (the Coffee shop). As I'm not a gamer and as I have limited space at home I decided not to assemble the whole building but to use the single pieces as backdrops. That allows me to make four new pieces with just one. As I bought a couple more products from TT Combat I should be able to make interesting and variable arrangements soon.
Ich bemalte die Stücke, veränderte sie ein wenig, um sie etwas realistischer aussehen zu lassen, baute einige Fenster für den Coffee Shop und brachte schließlich Graffitis aus dem Antenocitis Workshop und einige gedruckte Poster an den Wänden an. Fertig.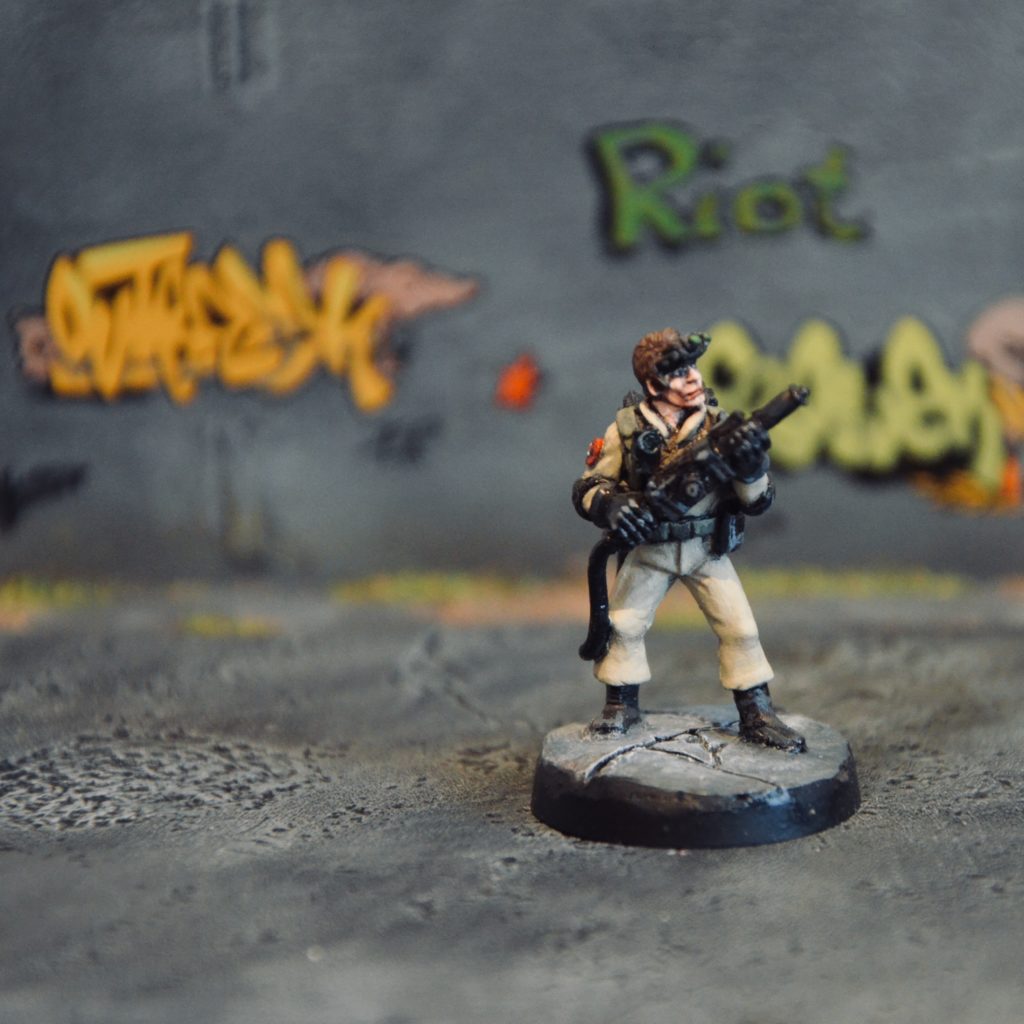 I hope you like the new backdrops. It should take a while to finally discover how to take pictures the way I want them to be, but this is again the beginning of a new aspect of the hobby with much to learn. Too much to do for only so little time…
Not to forget: Thanks to the Ghostbusters for their posing for the pictures!
Last but not least this post marks the start of the new category "Behind the scenes", in which I plan to give a little insight in what I do to build and paint the miniatures and to create the pictures. As always comments, suggestions and criticism is much appreciated.